---
The Suppliers listed below are NOT affiliated with Clan Forsyth Queensland in anyway. They may however, be able to supply items of Scottish attire, that are  not available through our Local Clan Store.
---
 Men's Formal Attire
​If you want the truly authentic experience, there are a whole host of kilt accessories which will give you the total 'look'. These include :
The Belt – Traditionally made from leather with a decorative buckle
 The Sporran – From the Gaelic word 'spleuchan' meaning 'purse'. Kilts don't have pockets, so a sporran is where a man traditionally keeps his 'stuff' such as money, keys etc. It's actually a small belt-pouch, made from leather or animal hide
Kilt Knife – Called a 'Sgian Dubh' from the Gaelic meaning a 'black knife'. It's a small knife, often with a decorative bone handle and a leather sheath. Traditionally kept tucked inside the top of a mans' hose (socks)
Kilt Pin – Small, decorative pin that is worn on the front panel of the kilt
Hose – Knee-length woollen socks. Can be a single color, or checkered pattern
Shoes – Known as Ghillie Brogues. Sturdy leather shoes with laces (shoe-strings), traditionally designed without a tongue. They probably evolved from the early Highlanders' footwear which consisted of leather or hide wrapped around their feet, and secured with leather thongs.
---
Kilts, Sporrans and Buckles …
---
More items of traditional attire …..
Kilt Belts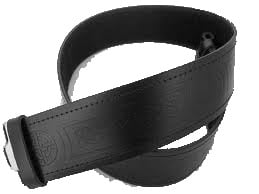 ---
 Kilt Pins
---
Sgian Dubhs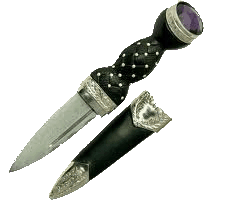 ---
  

Kilt Flashes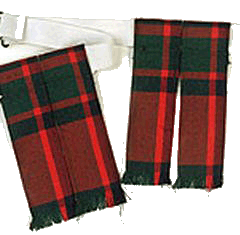 Scotland Yard Store LTD – Tartan Flashes
---
 

Kilt Hose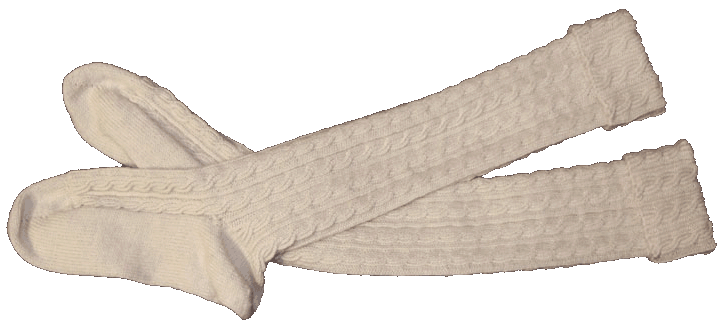 Scotland Yard Store LTD – Kilt Hose
---
Ghillie Brogues
Hector Russell – Ghillie Brogues
Scotweb – Ghillie Brogues
---
 Prince Charlie Jacket and Vest
Scotweb – Prince Charlie Jacket & Vest
---