The Queensland Branch of the Clan Society
In the beginning …
In May 1977 the Clan Forsyth Society in Scotland was reconstituted and a Clan Chief inaugurated.The purpose of the Society was to restore recognition and dignity to the name of Forsyth. Following a visit by the Clan Chief to Sydney in November 1978, some interested Australian Forsyths formed the Clan Forsyth Australia Society. This Society has continued to flourish.
Following this success in Sydney it was decided to involve the Melbourne Forsyths, and a preliminary meeting was held at Bill Forsyth's home in Essendon on 8 June 1979. Some 30 interested people attended and elected a Steering Committee which was given the purpose of publicising the Clan Forsyth Australia Society (Melbourne region) with the aim of seeking more widespread support.
The day set aside for the forming of the Clan Forsyth Society (Queensland) was Sunday, 16 March, 1980 and some fifty members of Forsyth families gathered together to attend a Church Service at Knox Uniting Church, Moorooka. Some members took part in the Service, which was followed by lunch, and a meeting at which election of officers took place and a Constitution adopted.
The Steering Committee which had arranged the function retired, but offered themselves for nomination.
The first Office Bearers elected to Clan Forsyth (Qld) were:
President: Ross Forsyth
Vice President: John Forsyth
Secretary/Treasurer: Gwen Gartshore (nee Dunn)
Assistant Secretary/Treasurer: Gordon Perry
Committee: Des Phillips, Don Forsyth, Keith Forsyth, George Forsyth and Dr Robin Forsyth
The first Ipswich gathering since the formation of the Official Clan Association was held on 7 September 1980. It was at the previous gathering 12 months prior, at Ipswich that the initial movement began which has resulted in the formation of the Clan Association. It was decided then to have the Forsyth Gathering back at Peak Crossing.
The existence of this Clan Society owes very much to the Reunions of the Forsyths from Peak Crossing, which have been taking place in August of each year since 1974. It is absolutely vital that these reunions continue.
The bulk of the Forsyths in Queensland have descended from the six Forsyth brothers who settled at Peak Crossing more than 140 years ago.
One of the main purposes of the Clan Society is to enable these "Descendants" to discover their heritage and keep in contact with their relatives. The Clan Society is not limited just to this one 'Tree'. Meeting Forsyths who are not related in any way, is a rewarding experience.
---
A fragment of history …
The production and distribution of newsletters and event invitations has come a long way since November 1979, when our inaugural Secretary Mrs Gwen Gartshore (nee Dunn), first produced this invitation for all Clan members to attend a function in Brisbane where Clan Chieftain, Alistair C. W. Forsyth would be attending.
 CLICK HERE to Download an original 1979 Clan Qld Newsletter [PDF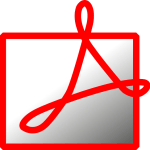 File – 528K ]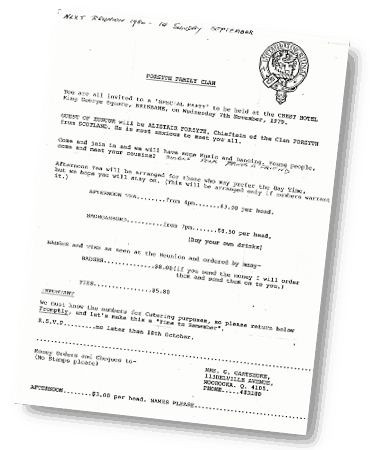 ---

– Can't see or don't have Adobe Reader Installed on your computer ? – Click Here to  

 – FREE –
---